I would like to believe that my book on the Shariah Minds in Islamic Finance is the first ever book written by a scholar, about the way the Shariah scholars have been thinking and putting their thoughts together in dealing with the Islamic financial industry.
With regards to the products, the endorsement, the audit, compliance, oversight and so on and so forth.
The book would be very much original, hands on, as well as based on real experience on the ground.
Shariah Minds on Islamic Finance book
Unlike many other books on Shariah, Shariah compliance, on the Shariah principle and standard, this book is about the actual understanding of the shariah principle on the ground.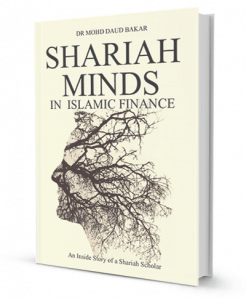 Representing and articulating the Shariah code of thinking, or if you like, the Shariah thinking algorithm of any Shariah scholar who has been assigned and tasked to look into Shariah product development and endorsement and compliance and monitoring the whole value chain of the Shariah compliance and requirement.
So the book aims and very much to articulate the very basic thinking process of any Shariah scholar in the industry representing the real layers of thinking processes and how could a Shariah scholar identify the issue, understand the issue as well as giving his own thought of solving that particular issue bringing to the table of discussion, many thoughts jurisprudential thinking process from various books and opinions of the classical Muslim scholars.
So the book is about bringing up the whole articulation and more so the very new way of interpretation and understanding of the modern Shariah scholars on Islamic finance industry.
Of course, the book will not be perfect without giving the challenges; perhaps the misconception about the scholars and about the expectations of the scholars.
So the book tries to balance between the expectations of the scholars and the criticism level which were circulated around the scholars and the book has been very honest to articulate and to put the balance between what is right and what is wrong with regards to the Shariah scholar's involvement and engagement in the industry.